Checking Into a Hotel Where No One Speaks English
(An Ipso Facto Spanish Immersion Experience)
This article is not a day to day, detailed travelogue of the sights of Ecuador. What I tried to explore were those aspects of our trip which were different from that of the average traveler, whether different because we were speaking Spanish, or different because we were traveling independently. Spanish. By plunging ourselves into situations where we had to speak the language, we also found that there was a real difference in the depth and quality of our experiences, in other ways as well. I have tried to concentrate mainly on those aspects of the trip which were different for us because we chose (immersion) (not to travel with a group. In additon, I also refer to the book, "Crossing Cultures" and exploor how the ideas found in that book were relative to our experiences.

For a more completely detailed, day by day travel account of the trip, click <here>.
Early in 2013, my sister-in-law Kathy came to me with the idea of taking a trip in the fall, to somewhere in South America, with a focus on practicing our Spanish. I myself can get along pretty well in Spanish at a basic level. Kathy is far more proficient than I.
PUT IN PHOTO OF GUIDEBOOKS
I was delighted at the idea of the trip, but a tiny pin-prick of worry kept intruding into my thoughts: "Would my relationship with my sister-in-law survive the stresses of independent travel?"
We had been friends since the seventh grade, long before we were sisters-in law, and in our youth, we had embarked on many a mini-adventure together. But now we were in our mid-sixties. For several decades, we had seen each other only a few times each year, and always within the setting of a large family group. If things did not go well, would we end up being uncomfortable with each other for years?
I decided to throw these worries aside, and focus on the delightful prospect of visiting my first South American country with a travel companion as knowledgeable and fluent in Spanish as my sister-in-law Kathy.
From late summer through early fall, she and I e-mailed and telephoned back and forth, tossing around ideas. She researched different tour companies, and found a couple which looked promising, due to small group size and intelligent itineraries. But I remembered that he first thing she'd said about the trip is that she wanted to practice her Spanish.
"If we go with a group of Americans," I said, "We are going to end up speaking English most of the time." She did agree that we travel independently.
Kathy e-mailed me that she had found a promising hotel on-line, the Hotel Mi Cecelia. I clicked the link she sent and replied that it looked good to me.
We had agreed that our main "home base" would be Quito, and that we would also take several overnight side trips to various other parts of the country. The difference was that I wanted to plan out our itinerary before we set out, and book all of our hotels in advance, as it was hard for me to let go of the security of knowing that we that we would have a definite place to stay each night. Kathy urged that we book our first hotel for a few days only, giving us the freedom to adjust our itinerary once we were there.
She had gone along with my idea that we should travel independently instead of with a group, so I felt I should go along with her on this one. She went ahead and booked us into the Hotel Mi Cecelia in the old town part of Quito, and she told me that she had made the reservation in Spanish because no one there seemed to speak English!
"Good", I thought, I always love a hotel near the historical part of town, and even better if we will be forced to speak Spanish!"
CHANGE HOTEL NAME TO CORRECT NAME EVERY PLACE YOU WROTE IT
So, after a couple of long plane flights, we found ourselves taking a midnight cab ride into the city. The street lights shone through the mist of rain, and onto the ribbon of brick road, which undulated up and down along the top of a steep canyon. The lights of homes dotted the other side of the dark
canyon like tiny stars. We were lucky to have a great driver who talked to us non-stop, in rapid Spanish, answering all of questions. We understood most of it.
Because I had known we would arrive late at night, and knew from the guidebook that Quito's new airport is almost an hour out of town, I'd been nursing some apprehension about this airport-hotel transfer ever since we left San Francisco airport. I was very relieved to find that the airport had an official system for "vetting" the taxi drivers. There was even a young woman in a smart uniform, writing down taxi-cabs' license numbers and the time each cab lft the airport.
The cab driver let us out next to a tiny plaza where a thick-trunked Canary-Island palm, set in a little triangle of dirt, was surrounded by a neat wrought-iron fence. In the dim light, multi-storied colonial-era buildings loomed on three sides.
"This is it," said Kathy, and we were standing before a high, heavy wooden door. As soon as we got out of the cab, I felt like we had gone back in time.
It was a locked door. We pounded on it with our fists, as though we were in a BBC drama set in medieval England. (Later, we found out there was a buzzer.)
Almost immediately, we heard the thundering steps of someone (someone young and spry) running lickety-split down several flights of stairs! "Jonni" as his name turned out to be, was the night clerk of the Hotel Mi Cecelia. We were to hear his rapid-fire steps going up and down the wooden staircases of the hotel, many times during our stay. A slim, friendly, energetic youth with glasses and longish wavy black hair, Jonni was a student by day who moonlighted as night clerk at the hotel. A loud buzzer, connected to his third-floor bedroom, alerted him to guests who arrived late at night.
Mounting the stairs rapidly ahead of us, carrying both of our carry-on bags, one in each hand, he led us up the two flights of steps to our room. We closed our door, and I sprawled on my bed with a sigh of pleasant relief at finally making it to our destination.
Which suddenly turned to aggravation, as we realized that we had committed a truly "royal glitsch": in forgetting to buy bottled water at the airport. And it was too late to go out and get any! So we had to go to bed thirsty, without brushing our teeth, because we did not want to drink the tap water. Ugh!
Then, in the morning, another unpleasant experience caused by a laughable linguistic misunderstanding: I shivered through a freezing cold shower, because the knob on the right said C for "caliente", not C for cold like it is at home! Kathy was smarter, but even though she used the correct knob,she got only intermittent warm ater. Oh well, we remarked to each other, it was character-building! Dressed and ready for our first day, we ventured down to the lobby for breakfast.
The interior of the Hotel Mi Cecelia was charming. In a former century, this building must have been the residence of a very wealthy family. Three stories high, it was built around an interior courtyard which was probably once open to the sky. Staircases led to three tiers of wooden walkways along three of the four interior walls, walkways with wrought-iron railings, supported by stout wooden posts. All of the individual rooms faced out onto these walkways, and each room had a door and a large window. Set into the fourth wall
of the lobby, the wall nearest the entrance, was the reception window, and above it a stunning collection of mounted wrought-iron crosses stretched all the way up to the ceiling, three stories above. All of the crosses were different, and some were quite large.
Everything was painted a cheerful combination of ochre, burnt-orange, gray-blue, and white. Soft tropical ferns, hung here and there along the walkways, added a homey touch. A couple of comfortable couches were situated near the reception window, and the rest of the small lobby was filled with a half-dozen square tables, each with four wrought iron chairs. A small window at the back of the lobby turned out to be a pass-through to the breakfast kitchen.
There was a nice breakfast set up in the lobby, and everyone was very friendly. The other diners would nod and smile and everyone would say a warm "Buenos Dias" to each other. First, a tray of different breads was brought, with butter, and if one wanted, one could get eggs cooked to order by bright-eyed little Monica, who was busy in the kitchen behind the little pass-through window. The word "tortilla", here in Ecuador, meant an omelet, as it does in Spain.
When coffee was requested, they would bring hot milk and a little jar of nescafe, and we mixed the nescafe into the hot milk. The fresh juice looked great, but we feared to drink it.
After each side trip to other towns, we would always return to the Hotel Mi Cecelia as a home base, so there were many mornings when we breakfasted in that cheerful lobby. I do have to admit that on some mornings, when the other guests were particularly friendly, it did seem a little difficult speaking Spanish before I'd had my first cup of coffee! But it came with the territory.
The only time I remember being really overwhelmed by having to speak Spanish first thing in the morning was when I encountered a very large, exuberant and friendly family of Venezuelans. I had come down about a half-hour before Kathy, and they all started chatting with me. Just making conversation, I told them that it had always been a dream of mine to visit Venezuela. For the next quarter-hour I was bombarded with enthusiastic descriptions of all the sights not-to-be-missed in Venezuela! I never was so glad to see Kathy coming down the stairs.
I only remember one time or two times when we encountered other English-speaking guests at the Hotel Mi Cecelia.
It was a great relief to us to find that our Spanish was more than adequate for talking to the hotel staff. Besides Jonni the night clerk, and Monica (breakfast cook, hotel maid and laundress) there were two ladies, Marcia and Inez, who staffed the hotel during the day. They took reservations, manned the reception desk, and were most helpful answering our many questions. Inez, the younger, was a university student, like Jonni. They were both studying in the field of tourism.
During the many times each day when we had to communicate with someone in Spanish, Kathy and I made a pretty good team. On the one hand, her vocabulary is much greater than mine (she can actually read Spanish literature, which could never plow through). Yet I sometimes had an easier time understanding people who spoke in regional accents.
Our first day in Quito was more exhausting and disorienting than we expected. We didn't end up seeing any of the museums or churches we had planned on seeing. By the time we took the crowded trolley (the "trolebus") to a mall to buy a temporary cell phone, had walked part of the way back because the street was too torn up for buses or cars (a sea of uniformed students, just let out of school, coming in the opposite direction), encountered a big fiesta in the Plaza Grande with a live cumbia band (the government had given the party in honor of Ecuador's getting accepted to play in the world cup, but by now they'd already lost their first game and were out of the running), and had a meal at a little local place, we were exhausted and ready to come back to the hotel for an afternoon siesta.
Part of our exhaustion was due to the high altitude. When we walked up a hill in Quito (which was often, because the entire city is hilly) I felt like I was fifty pounds heavier than I am.
Awakening in the evening, we felt refreshed, and treated ourselves to dinner at a nearby restaurant which was recommended by Jonni, the night clerk. It did turn out to be the most expensive restaurant of our entire trip, but it was an enchanting experience. From our roof-top table, we dined on typical Ecuadorian dishes as interpreted by a top chef, serenaded by tasteful versions of Ecuadorian folk-music sung and played by two older gentlemen on a harp and a guitar. All around us were panoramic views of the city lights on the hills surrounding Quito.
Kathy with guidebooks, as we plan out the rest of our trip
By the second day, we both had begun to feel that it was high time we planned out the rest of our trip. We found a "real coffee house" close to our hotel, where we could retreat into a quiet, familiar atmosphere and drink excellent cappuchinos (All of the little local restaurants seemed to serve Nescafé). There was a room in back with a view of a peaceful courtyard. There we sat and spent a couple of hours, nursing our cappuchinos and planning out the rest of our trip, tossing different ideas back and forth, our guidebooks and notebooks spread out on the table.
After our long first day, during which we were constantly inundated by all of the unaccustomed sights, sounds, and mannerisms of a foreign culture, we realized that we wanted to simplify our original plans. We would reduce the number of side trips we'd thought we might attempt. We did both definitely want to visit at least one city on the coast, because the tropical flora, fauna and way of life there was said to be so different. We decided to stay at least one night in one of the smaller towns on the "Avenue of the Volcanoes" (the highway that runs down the high mountain spine of Ecuador), so that we could see what life in a small-town mountain town was like. Lastly, we wanted to visit the town of Otavalo, north of Quito, to see the world-famous market that is held there every Saturday.
First we discussed which coast town we would visit. The guidebooks said that the beach towns on the northern coast, near Esmeralda, were less safe for tourists than those in the south. I suggested Guayaquil, the largest coastal city in the south, but Kathy had read that it was large and dirty. On her suggestion Bahia de Caraquez, about halfway down the coast, and decided, for a change, to stay in a hostel there instead of a hotel: the Hostal Cocobongo.
For our other two overnight side trips, we chose Latacunga, a small high-altitude town on the high altitude highway, "La Avenida de los Vulcanes", and the famous market town north of Quito, Otavalo. Using the guidebook, we found hotels there also.
We went back to the Hotel Mi Cecelia, where Kathy made all the reservations we'd decided on, with the help of Marcia and Inez. (She still had not been able to get the new cell phone to work.) Luckily no one was waiting to check in or out, because it took quite a while! Besides making the reservations, we had to make clear to Marcia and Inez exactly which nights we would be in Quito, and which nights they could rent our room to someone else. Finally we got it all straightened out.
Or at least we thought we had…
I was really glad that we had followed Kathy's suggestion and waited until we were actually in
Ecuador before we finalized our itinerary and booked all of our hotel rooms.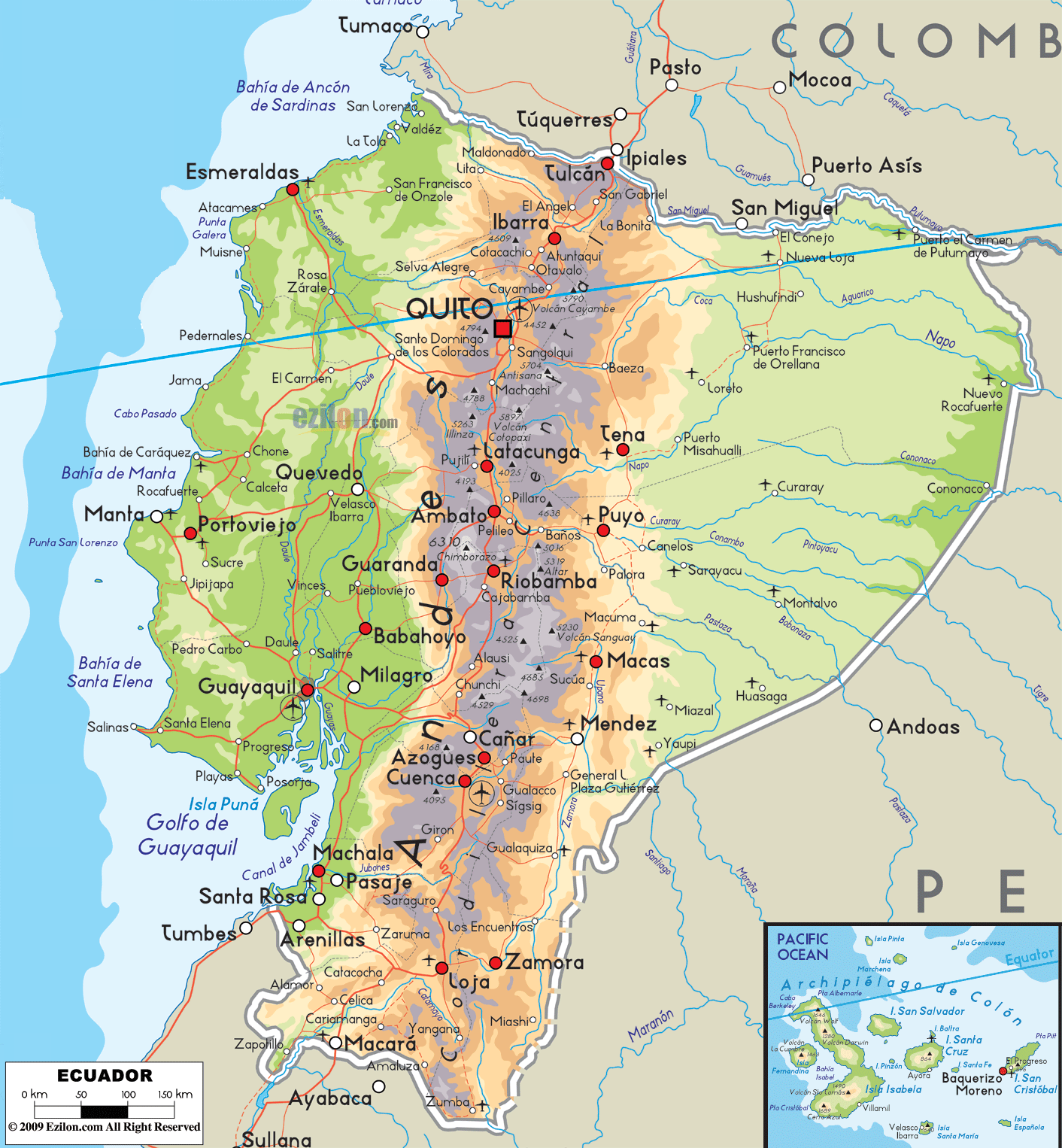 Many people have asked why we did not visit the Amazon or the Galapagos? True, these destinations had been tentatively considered in our original plan. But according to the guidebooks, it would have taken a vey long bus ride to reach the Amazon, only to reach rather rough towns which were described as heavily influenced by presence of large numbers of American oil workers. The Galapagos Islands, so fascinating because of their unique flora and fauna, are likewise altered in character, because they attract
so much international tourism. We wanted to stick to the main purpose of our trip, which was to speak a lot of Spanish and to experience the culture of the people of Ecuador.
There was one destination we did really regret giving up: a visit to the colonial town of Cuenca , much further south on the Avenida de los Volcanes, so famous for its lovely old buildings. But we only had a certain number days in Ecuador, and we knew that, for us, it would be more satisfying to visit fewer places and manner and be able to explore them in more depth.
Finalizing our plans for the week seemed to settle our minds, and we got a great deal more sight-seeing done in what remained of that second day. Everything we saw was in the "old town" area, within walking distance of our hotel: Lunch at a delightful outdoor cafe connected to a crafts gallery (serenaded by an excellent young singer guitarist/panpipe player with strong native-American features and very long black hair), an excellent museum called the Museo de la Ciudad, the gorgeous, gold-encrusted cathedral of the Cumpania de Jesus, and an evening meal in the lively area called La Ronda.
As were were sitting in that cafe eating lunch, we noticed a tour group of "gringos" stringing along after their tour guide across the Plaza, chattering to each other and looking a little uncomfortable whenever they did glance about. I couldn't help feeling that we were getting a much more vivid and interesting experience!
I continued to be so impressed by the friendliness and courtesy of every Ecuadorian person we encountered. I wrote in my nightly e-mail that evening, "Every single time we have asked someone for help they have been so friendly and helpful, beyond my expectations."
Setting out the following day on our side-trip to Latacunga, we did find that buying the bus ticket and negotiating the large gleaming bus terminal was rather frantic and confusing. I was taken aback when the spiffily-uniformed young lady at the ticket window demanded to see our passports when we bought our tickets, so that she could write down our passport numbers. (All I can think of is that the Ecuadorian government is keeping tabs on where foreigners wander to when they spend time in the country.) But it meant that I had to take a trip to the bathroom before buying the ticket, to get my passport out from under my clothes, and another after we'd bought them, so that I could sequester my passport again.
It seemed to take forever before we got onto the bus, and the only seats were way in back. But we had a great conversation (in Spanish, of course!) with a nice young woman who was on her way to visit relatives.
Our afternoon and overnight stay in Latacunga did indeed give us the experience we'd hoped for: a small-town version of the mountain culture, which is so influenced by the indigenous people. We felt more relaxed to roam around in the evening than we had in big-city Quito.
On the back of our hotel-room room door was a tattered list of regulations in Spanish, each followed by the funniest bad English translation I'd ever seen, starting with the fact that they had decided to translate the word "guest" as "hostage". Kathy wrote down a couple of these translations, and I quote:
"The hostage is responsible for of normal use of all furniture put on your service, and to maintain an adequate suffer during all moment in hotel"
"It is forbidden to listen music on hing volume or doing strong voices that disturb the resting of other hostages".
Our next side trip was down to the coast! A nerve-wracking, gorgeous eight-hour bus ride down through a road which, hair-pin turn several climate zones: first the intensely green, cultivated, high-altitude fields with their backdrop of snowy mountains, then wild hair-pin turns down through the dense, misty cloud forest with its lush variety of plants; by late afteroon, we started to see banana trees.
The driver began to stop the bus more and more often, picking up one personal friend after another. These people rode standing up in a little group at the front of the bus, loudly socializing and erupting into laughter his jokes, delivered in a monotone out of the side of his mouth. "A la playa!" (to the beach) he yelled suddenly, and his friends all cheered.
I am not exaggerating that if I didn't know where we were I would have thought we were in Cuba or Haiti. The small houses were built high on posts, and they were sided entirely of halved bamboo poles…with front porches (also high off the ground) every one hung with hammocks. A larger percentage of the people appeared to have some African ancestry, as well as Native American and Spanish.
Compared to the cities we'd seen in the interior, these little coastal towns were shabbier and more cluttered, and more people were hanging out Compared to the cities we'd seen in the interior, these little coastal towns were shabbier and more cluttered, and more people were hanging out on the streets. Once could hear loud voices, these coastal Ecuadorians calling to each other and joking with each other. Shorts and tight tank tops (and very tight stretch pants, worn with teetery high heels) were common on the women, along with a swaying walk never seen among the reserved, correct young "inigenas" of the high-altitude regions.
I have to admit that we both felt a sigh of relaxation when we arrived, after dark, at the Hostal Cocabongo in Bahia del Caraquez. We had clearly checked into what is called "the gringo trail"! We were shown around by the barefoot young Swiss manager, with her long blonde hair and her short, loose, cotton ethnic-print dress, who chatted away about house rules in fluent English. The other hostel guests were all young, friendly, English-speaking travelers, from the U.S., Australia, England and Europe. It sounds silly, but I felt as though I could stop being on my best behavior for a couple of days. How I relished sitting on the patio couch with my morning coffee, bare feet up on the coffee table, constantly bothered by kittens!
Yes, we had come to Ecuador to immerse ourselves in the Spanish language and in a foreign culture, but it was nice to have a bit of a break from all of that translating, both verbal and cultural, and hang out in a familiar atmosphere for a couple of days.
Each afternoon several retired American expat gentlemen, who lived locally, would show up, sit and drink their beer, and exchange mellow, laid-back desultory conversation until dusk. It was off-season for Bahia de Caraquez, we were told; the mass of tall apartment buildings and hotels at other end of town only filled up from January to April.
Several months after our Ecuador trip, I read a book called "Crossing Cultures", by Craig Storti. (click <here> for review). The book is aimed at people whose employer has assigned them overseas, so it was surprising to me that so many of his main points made me understand what I'd experienced during our Ecuador trip.
Mr. Storti's book, his consultation business, and his training center in Washington D.C. are all based on this premise: that it is the overwhelming tendency of ex-pat employees to socialize exclusively with others from their home country, and that this fact results in these employees being much less effective in the business they are conducting overseas, because they relate less well to business associates from the "other" culture, and also are less effective in dealing with co-workers from the "other" culture.
Reading the book, I thought, "It's the same with people who travel for pleasure. When they give in to the more comfortable experience of traveling with a group of people who share their own background, the result is that they have far fewer interactions with people from the country they are visiting, and end up learning far less about that culture."
There is a pattern, Storti writes, which happens over and over:
First, the ex-pat employee experiences a few unpleasant interactions with people from the country they have been assigned to. (Different cultural norms lead to misunderstandings.)

Second, the employee retreats to the comfort of socializing with others from a similar background, usually from his or her own country.

Third, the pattern is reinforced because the expats commiserate with each other about how difficult the locals are, and ex-pat "communities" tend to create a social calendar of events which make it more and more likely that their members become caught up in that ex-pat community and that ex-pat community only.
I thought of the first rather nerve-wracking day that Kathy and I had spent in Quito, and how the next few days went better. I thought of the expats hanging out in the bar of the Hostal Cocabongo every afternoon, and of the middle-aged American sailor we talked to who referred to "the community" and meant the "gringo" community. The ex-pats we saw were following the pattern that Mr. Storti describes so well, retreating to the company of their own kind.
By staying for most of our trip in the Hotel Mi Leticia, where no one spoke English, Kathy and I placed ourselves in a position where we could not retreat to what was comfortable and familiar, and this situation caused us to do just what Mr. Storti urges in his book and in his classes, which is to perservere and continue interacting with people from the "other" culture until you get past that first feeling of discomfort and strangeness.
He also advises that any effort made to learn the local language is most worthwhile, and we were certainly evidence of that!
Although it is true that we spoke no Spanish at the Hostal Cocabongo, our daily outings gave us a lot of Spanish lnguage practice. The guided nature trail hike at the wonderful Reserva Biological Cero Seco was all in Spanish. Marcelo, our college-educated guide (and fervent "eco-loco") knew how to slow down his words a little, or repeat, or try other ways to say the same thing when he saw any confusion on our part. The variety of plants in that area is incredible.
Kathy behind me in the canoe going through the mangrove swamps
On our second day on the coast, we spent the overcast morning in a shallow boat propelled by a guide. gliding through the mangrove swamps of the Isla del Corazon. There we saw the famous frigate birds, the males guarding their nests with their puff-ed up red chests. Our little guide kept up a rapid-fire schpiel, also in Spanish, and we had no trouble understanding him.
Later in the afternoon we visited the excellent local museum, where an older gentleman was our guide. He seemed quite relieved that we could understand Spanish. He started out with a practiced schpiel, and by the time we g ot to the rooftop view of the city, he was telling us about his divorce.
Kathy noticed that I had an easier time understanding the coastal accent than she did. (Her Spanish is much more advanced than mine, and she has a great deal more vocabulary.) Perhaps the reason I could understand the different accent is that I learned most of my Spanish from watching TV, rather than at school. (I did have one term of Spanish at a city college, decades ago.)
It felt good getting back to the cold crisp air of Quito, and back to our "home base" the Hotel Mi Cecelia. We rested for awhile before going out for a bite to eat.
On our way back from the restaurant we saw a doctors' protest, which we had read about in the newspaper. All the medicos were wearing their white coats, and one of them was beating a very loud drum which echoed up and down the street. Knowing Spanish allowed us to stop one of the doctors to ask what it was all about, and we learned they were protesting a new law which punishes malpractice more strictly than before. Following after them, calmly and at a slight distance, was a busload of police in riot gear,
Earlier in our stay we had encountered another demonstration, and were also able to ask what that one was about. This other demonstration, we found out, was protesting what was happening to an indigenous tribe called the Yasuni, who live in the Amazon, in the area where all the oil drilling is going on.
We saw large government signs. One says that the Yasuní are living, and millions of Ecuadorians will be living better. The other asks, "And you, what have you done for the Yasuní?"
Our morning chats with other travelers led to our joining forces, for our last side trip, with two Spanish-speaking tourists, a young female architect from Venezuela, and a long-haired professor from Argentina. We had told the professor that we intended to visit the famous crafts market at Otavalo, which the guidebooks said should not be missed, and he suggested that we join forces. On the hour-long bus ride north to Otavalo, Kathy sat with the professor and I chatted with the young lady. It was interesting hearing about her work. (If I understood correctly, she was a government employee, and her job was to check buildings to make sure they were up to standard.
It turned out that we were quite overwhelmed, and rather unimpressed by the huge market at Otavalo. It was indeed huge, not only a huge plaza full of stalls but vendors lining all of the little adjoining streets. A lot of the merchandise appeared to be made in Asia. I did find a couple of items which I was pretty sure were locally made: a hand-knitted watch cap which I still treasure, and some beautiful traditional striped fabric.
The vendor gave me too much change due to a multiplication mistake, and after pointing out his error, I laughingly told his friend to "tell his friend he needed to go back to school".
My favorite part of our side-trip to Otavalo was the Sunday morning we walked from the hotel to the bus station. It was overcast, and the town was quiet due to a power outage. All around us, small family groups of indigenous people walked towards the cathedral, dressed in their traditional dress.
Our last two days in Quito we made expeditions to the "new" part of town. It was like a different world: tall gleaming apartment buildings, modern coffee shops and restaurants which were identical to similar establishments in the US, whole streets of counter-culture looking hostels which were obviously aimed at young gringo backpackers.
We went to the tiny jewel of a botanical garden, then to a street of bookstores which Kathy wanted to see and bought books in Spanish, which we read while relaxing on the terrace of a trendy coffee shop.
The next day, our last full day, we went to the splendid archaeological museum, which was incredible, and also to the Plaza de las Artisanias, a block of little vendor's shops which had a selection much more authentic an had Otavalo. It was the best shopping place we had been to and I bought quite a few items there.
A funny thing happened at the museum, as we were coming up upon a group of high school students who were being taken on a tour of the museum. Two of the boys at the back of the group were giggling, sharing something on their phones rather than listening to the museum guide. I worked as a classroom aide at the middle school level for twenty years, in my home town of Apache Jct., Arizona.
Without thinking I said to the boy texting on his phone, "No debes poner attencion?" (Shouldn't you be paying attention?) He looked really surprised and put his phone away. Kathy later told me that this was one of the funniest moments of the trip for her.
Recently, I e-mailed Kathy that I was writing an article for my travel website about our staying at the Hotel Mi Cecelia, and asked for her input on how this made our experience different than if we had stayed in a hotel which catered to English-speaking tourists, she replied, "Well, probably the most different aspect was sharing a smallish double bed in the staff bedroom on the top floor, with the bathroom down the hall! I kind of doubt that they would have done that if we hadn't been so friendly earlier on. But it was funny."
Each time we returned from one of our side trips, the staff had put us in a different room. So when we returned from Otavalo, we were sitting in the couches near the reception desk window, we waited to see which room Inez and Marcia would put us in for our last night. Inez seemed to be rather nervous, they kept talking back and forth in worried voices about this room, or that room.
"Hay problema?" I said.
"No…." she answered with a rather strange tone to her voice, which made me a little suspicious.
"No hay una habitacion para nosotros?" I asked. (Isn't there a room for us?)
There was a pause, and one of them said, "Pues, hay una habitacion muy especial para Ustedes!" (Well, there is a very special room for you!) She led us up to the third floor, and we looked at eachother with raised eyebrows as we followed her past the door which said that only staff was allowed past that point. We passed a little kitchen, a laundry room, and she opened the door to a room with a huge stereo system, ticket stubbs from rock concerts (all of American bands) on the walls, and photos of the night clerk and his friends diving into a river. Yes, this was the night clerk's room! He was going to sleep in the laundry room, "no problem". (Except that we would all share the staff bathroom down the hall.)
They looked at us expectantly. We were still too surprised to say anything, so the ladies added that we could cook in the kitchen, and use the stereo system if we wanted. We agreed to the room (what else could we do), and I told them, "Gracias, pero no vamos a tocar nada."
(Thanks, but we will not touch anything.)
When our suitcases were brought up and we closed the door, we couldn't help but giggle. On Kathy's suggestion we decided to ask if we could rent the room for a second night, even though we would be flying out in the evening, so that we could have until later the next day to pack. (They ended up not charging us for the second night anyway.)
Taking our showers in the shared bathroom down the hall, wasn't as awkward as I feared, because the door did lock. But around three in the morning, I got up and padded down the hall to the bathroom, only to find the door was closed. 'Jonni the night clerk must be using it', I thought, and went back to our room. I tried again a little later, and he was just coming out of it. As we passed in the hall, he said, "Esta bien?" and I answered, "Si". It seemed so strange to have that polite common-place exchange with a young male staff member 3:00 AM on the way to the bathroom, and I started to chuckle so much inside that I could hardly chuckle silently.
The next day as we packed, I took that look under the bed to make sure something hadn't been left there. The entire space under the bed was taken up with suitcases. They must have made him pack all of his stuff into these suitcases so that we could use the room!
At the airport, we had to laugh at this sign on the inside of the door to the toilet stalls in the restroom. All during our time in Ecuador, we'd seen over and over again signs saying not to put toilet paper in the toilet, because the plumbing system can't handle it. So, in the airport, they had to make sure that Ecuadorians knew to put the toilet paper in the toilet.
As I finish this article and look back on our whole trip, I do indeed see that by choosing independent travel to a third world country such as Ecuador, we did let ourselves in for some extra stress. And yes, our stress level was greater than if we'd stayed in a hotel which catered to "gringos". But I firmly believe that the experience we had was so much more intensely interesting, and much more educational, than it would have been if we had traveled with an organized tour, or stayed in a hotel where the staff could speak English with us.
My fears about whether the good relationship I'd always had with my sister-in-law would withstand the stresses of independent travel turned out to be groundless. It is true that we did have to endure two very difficult experiences. One night she was laid low with severe digestive upset, and on another day, my purse was slashed on a crammed, rush-hour trolebus.* Looking back, I realize that when one of us was suffering a particular difficulty, the other one was all concern and helpfulness. I learned a new appreciation of her character , and also of my own.
And our Spanish did improve! By the end of our stay in Ecuador, we were both talking faster! Kathy said that she especially noticed that her verbs had improved.
*For a detailed description of this incident, read <Rip-offs I have Known>, also on this website.